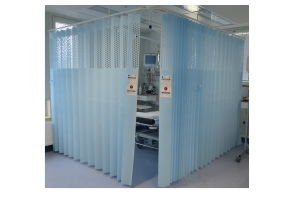 Description
Disposable curtains manufactured by Elers Medical. The curtains can be used with all standard curtain rails.
The curtains are recyclable, flame treated (BS5867: Part 2 Type C and NFPA 701), and are approved according to international standard.
You can get the curtains in both perforated and non-perforated. The advantage with perforated curtains are that you can see through, more light and air inlet for the patient.
Facts
Material:
The curtains are made of polypropylene.
Sizes:
5,55x2m,  8 pcs/box
3,75x2m, 12 pcs/box
The curtains are also available in other colours and lengths,
please contact us for more information.
Colour:
Summer Blue och Pastel Yellow
---
Manufactured by
---
---
← Go back